2020 Census Information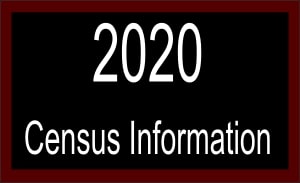 ---
Census Day—April 1, 2020. You can respond online, by phone, or mail.
Below you will find several resources and informational links for your reference.
Please help spread the word. The Census plays a vital role in our schools and community!
Video Collection from 2020 Census – Youtube Link
https://www.youtube.com/playlist?list=PLewV-zKXDZki3m8jrb0VJcnPatHEkkZDm#

"2020 Challenge" educational video
https://www.census.gov/programs-surveys/sis/2020census/2020-resources/2020-videos/census-challenge.html
CONFIDENTIALITY:
Your responses to the 2020 Census are safe, secure, and protected by federal law.
Your answers can only be used to produce statistics - they cannot be used against you in any way.
Under Title 13 of the U.S. Code, the Census Bureau cannot release any identifiable information about individuals, households, or businesses, even to law enforcement agencies.
The census counts every person living in the U.S. once, only once, and in the right place.
Every 10 years the results of the census are used to reapportion the House of Representatives determining how many seats each state gets.
After each decades census, state officials redraw the boundaries of the congressional and state legislative districts in their states to account for population shifts.
The U.S. Constitution mandates that everyone in the country be counted every 10 years.
The first census was in 1790.
The distribution of more than $675 billion in federal funds, grants and support to states, counties and communities are based on census data. That money is spent on schools, hospitals, roads, public works and other vital programs.
Completing the census is mandatory; it's a way to participate in our democracy and say "I Count!"
In 2020 you will be able to respond to the census online.
- CENSUS JOBS:
Cumberland County is at almost 75% of the peak applicant goal for enumerators. If you know anyone that would like to apply, please send them to Census.gov/jobs. View recruiting applicant goals at https://public.tableau.com/profile/us.census.bureau#!/vizhome/RecruitingGoalsCensus2020/PercentofPeakOpsRecruitingGoal
Why be a Census Taker? – Watch the videos online at https://2020census.gov/en/partners/outreach-materials/recruitment-videos.html

- COUNTING YOUNG CHILDREN:
Counting everyone once, only once, and in the right place
Some common situations where young children aren't counted:
The child splits time between two homes.
The child lives or stays with another family or another relative such as a grandparent.
The child lives in a lower income household.
The child lives in a household with young parents or a young, single mom.
The child is a newborn.

When it is time to respond, most households will receive an invitation in the mail.
95% of households will receive their census invitation in the mail.
Every household will have the option of responding online, by mail, or by phone.
Please also see the RELATED DOCUMENTS area below, for more information, regarding the 2020 Census.